1. I am pretty neurotic about not wasting food. If Ian and I have leftovers, unless it spoils, you can bet I'm going to try to find a way to repurpose it and sometimes I actually make something worth noting. Like a few days ago, I was trying to figure out something to do with rice, I decided to make a breakfast rice pudding, and it turned out really well!
I heated 1 cup of cooked rice on the stove with 1 cup almond milk, 1 T maple syrup, 1/2 tsp cinnamon, 1 T flax seed meal, and 1/2 tsp vanilla extract (I bet almond would taste good too). Once the rice had started to absorb the milk (about 10 minutes), I poured the mixture into two ramekins, let cool, and then transferred to the fridge. In the morning, I added sliced banana, almond milk, pecans, and nut butter. Incredibly easy!
2. The weather this week has been COLD and as I don't like to mix super cold weather with ice and running alone in the dark, I've been running on the treadmill quite a bit. Do you know what I've found to be my least favorite part of going to the gym? It's not getting up early and having to walk 10 minutes in the negative degree weather but having to put so many layers on my sweaty self before I leave the gym to walk home. Now I know I need to layer up, especially after sweating, but there is nothing more uncomfortable than wearing 3-4 shirts/jackets and having sweat drip down your back. Ew.
3. Speaking of working out, yesterday it took me three tries to find a functioning treadmill at the gym. First, I got on one that wouldn't start at all because it appears that someone had to punch the emergency stop button all the way down so that it was stuck. Next, I got on one that worked but when I started to increase my pace to get ready for my tempo miles, the treadmill shut down. I started it back up only to find when I increased the pace over 7.5 the treadmill would stop. Interesting right? Finally, my third treadmill worked but the sound on the tv was busted. Oh well, at least I had my phone and could listen to Pandora.
4. Ian and I have finally started watching a new show, Fringe! It's really creepy, suspenseful, and definitely pulls you in. Plus Pacey errr Joshua Jackson is in the show…
(source)
Officially hooked.
5. Are you guys doing anything fun for the Superbowl? Ian and I are not all that into it so unless something comes up, I doubt we'll do anything too crazy. We have discussed watching the Puppy Bowl and I wouldn't put it past us to watch it instead.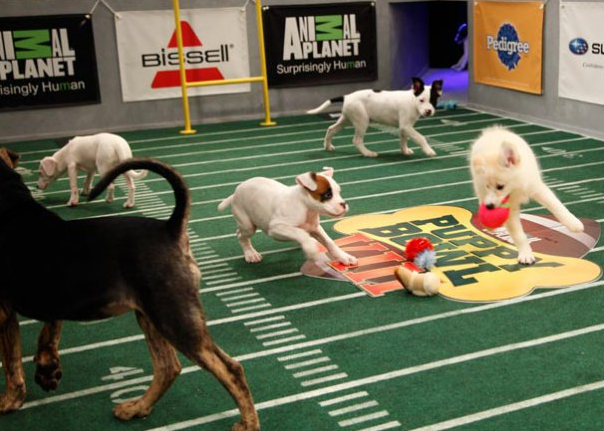 (source)
How is that not the cutest thing you've ever seen?
Do you have any fun plans this weekend? Ian and I are going out for restaurant week and then staying warm!