I'm back and happy what I ate Wednesday! Sorry for the quick post yesterday, on Monday night I realized that my analysis assignment was getting to be too big for the project and had to scale it back a bit. In the process I needed to scrap a lot of work I had already done. So frustrating! But the good new is that I managed to make some serious progress on it last night. It'll feel so good to turn it in tomorrow!
Anyway, here's a recap of Tuesday and don't forget to check out Jenn's blog Peas and Crayons for more information on wiaw!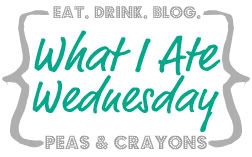 I started my day at 5:45 a.m. with date and some kefir for pre-run fuel. I went out for a much needed stress-relieving run and surprised myself. It was my fastest run post-injury. I averaged a little over a 7:45 min/mile.
Breakfast was a new-to-me product, Holly's oatmeal.
I whipped in banana and then added blueberries and white chocolate wonderful peanut butter after it was done cooking. I liked these oats but they didn't wow me, maybe I made them wrong?
After breakfast I headed off to work for an almost full day. Unfortunately, I took a weeks worth of hours off for my trip to Boston so I can't afford to take anymore off finals week (I'm actually making them up next week). No extra time for me to work on my assignment! Thankfully, work has been crazy so I had plenty to me busy and before I knew it my stomach was gowling for lunch.
Whenever I go to Whole Foods (rare now), I always pick up some of their 2 for $5 packaged foods. They make great lunches! Today I brought a Health Starts Here Asian Salad (added avocado to this)
And smoked mozzerella pasta.
Unfortunately my eyes were larger than my stomach and I could only eat about half of the pasta. It was really tasty though!
The afternoon went quickly and before I knew it, I was sitting at my counter working on my assignment. By 6 p.m. I had made significant progress so I took a break for a quick dinner.
This was the ultimate scrounge in your fridge and throw stuff together meal. I mixed cooked risotto with arugula and hummus and microwaved it for 45 seconds. Then I added roasted brussels sprouts, roasted tempeh, and avocado sauce. It may not look pretty but it tasted good.
I worked for another hour before my sweet tooth took hold and I had dessert.
Brown rice cake, crunchy sunflower seed butter, cottage cheese, chocolate covered espresso beans, and pretzel M&M's. It was awesome.
I spent the rest of my night working on my assignment and in full disclosure when I called it quits around 10:30 I snacked on a small cup of cereal while I relaxed on the couch.
Not the best in terms of stress eating but it could have been much worse!
And that's Tuesday for you!
Do you stress eat? If you do, do you have any tips on how to prevent it?