Happy belated Halloween, I hope everyone had a great time whether you celebrated or not!
My Halloween was just kinda meh. My day started super early (4:30 eeek!) so I could fit in a 12 mile long run before work. My run actually went pretty well. The lakefront trail was still closed so I completed a big loop in the city before heading down to the trail and running an out-and-back, turning around where the path was closed. I was super surprised to see a car parked on the trail around Ohio St and a man prohibiting runners from continuing along the trail (at like 6 am!) In all the inclimate winter weather we've had, I've never seen that before.
I ended up running about an 8:00 min/mile with my first 6 miles in the city slower (stop-and-go) and my last 6 faster.
This picture makes it look like I was out running on a beautiful fall day. My run was great and all but it was 37 degrees feels like 28 when I left my apartment. Not so fall-y at all!
Work this week has been incredibly busy. We had about a week to pull together a grant application and all other research projects have been put on hold as we attempt to finish everything by Friday. I've had quite a few days where I just haven't been able to eat lunch until 2 or 3 pm because I'm running around and working on stuff non-stop. I'm not trying to complain because I'm actually really glad to have an opportunity to work on this application and it's a great experience but being so busy really makes for a long day.
Ian and I had plans to use our free Chipotle coupons (from the Cultivate festival) last night so we headed over around 6:30. This was a big mistake. Apparently, Chipotle was giving out $2 burritos to anyone dressed in costume and given that the Chipotle we went to is surrounded by 3 colleges, the line was incredibly long and filled with college kids dressed to go out for the night. Ha. I felt so old.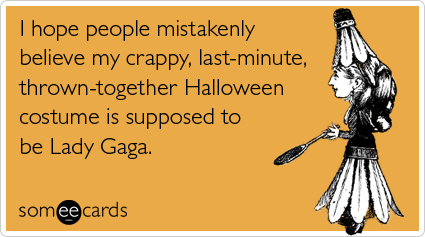 About 30 minutes later we finally got to the front of the line and I ordered my veggie burrito bowl with romaine lettuce (best of both worlds). I want to say it was worth it but I was so hungry at this point that I just scarfed it.
[recycled photo but you get the point, also I always share the guac with Ian]
Our building does trick-or-treating but very few kids actually participate. Ian saw one little girl before I got home and a few people picked up candy from the bowl we left outside of our apartment but we didn't get anyone else after dinner :(.
Finally, we settled down on the couch, put on Arrested Development, and I enjoyed my one and only piece of Halloween candy, a Reese's peanut butter cup!
I also had a dark chocolate wafer chip (TJs) with sunbutter. By the way, Reese's cups are gluten free but do have dairy in them. I made an executive decision when my boss put one down on my desk earlier in the day that Halloween only comes once a year and I was going to enjoy myself. It was totally worth it!
We also gave the furball some catnip treats but I think he was a little jealous of my Reese's cup or just the wrapper, whatever.
How was your Halloween? Did you do anything fun? Favorite piece of candy?