1. After a good but busy week, all I wanted to do Friday night was relax. I went for a run after work, watched Arrested Development with Ian, and I cooked for the first time all week.
And yes, if you're wondering OhSheGlows' Cozy Millet Bowl with Mushroom Gravy and Kale is every bit as good as it sounds.
2. On Saturday I was pretty excited for sleep in until 7:30. My life is sad. Getting back from my run at 8:45 felt really really wrong. How did I used to sleep in so late?
3. I tried something different for breakfast this weekend. On Friday I mixed 1/2 cup oats with 1 cup almond milk and set it in the fridge overnight. On Saturday morning, I took it out, gave it a stir, and added some salted pecans, banana slices, and then a blob of fig jam. It was a nice alternative to overnight oats (inspiration here).
4. After breakfast, Ian and I headed over to Green City Market. I picked up some swiss chard and cucumbers and Ian got some cheese curds and apple cider. On our way out we passed a stand that was selling dead sunflowers, any idea what you do with these?
5. For lunch on Saturday I sauteed a bunch of veggies (cauliflower, japanese eggplant, and peas) in TJs curry simmer sauce. It was super easy and really tasty, I definitely recommend the curry simmer sauce for when you want a quick but tasty meal!
6. Saturday evening I went into full on baking mode. I made the treat that I brought to book club on Sunday (more on that in a bit), Katie's No-Bake Pumpkin Oatmeal Cookies, and Starbucks Clone Pumpkin Scones for Ian.
The cookies were really good and will make perfect snacks to take with me to work this week.
The scones became a huge mess- the dough was sticky and it got everywhere! Luckily, Ian says they taste good even though they don't look too pretty.
7. I've started buying TJ's chocolate almond milk to use in smoothies. One of my favorite creations is frozen banana, peanut flour (or PB2), and chocolate almond milk. So simply but so delicious!
8. Speaking of smoothies, they have become my recovery beverage of choice. On Sunday after my 14 miler, I tried this hot apple pie smoothie and it was so good!
9. Has anyone else seen My Cat from Hell on the Animal Planet? I was watching it when I was home alone Saturday night and wanted some background noise and I saw the most disturbing episode. This lady had two small dogs that were supposedly being attacked by the cat. However, when the cat guru shows up at her house, he finds out that the lady puts clothes and diapers on the dogs, paints their toenails, feeds them out of a bottle, etc. It was sooo creepy (the casting video is here). You know it's bad when you're uncomfortable watching it from home!
10. I started reading Gone Girl by Gillian Flynn Saturday night and I can't put it down! I'm so intrigued and want to find out what happened to the girl so badly that I do not want to stop reading. If you haven't read it, I recommend you check it out!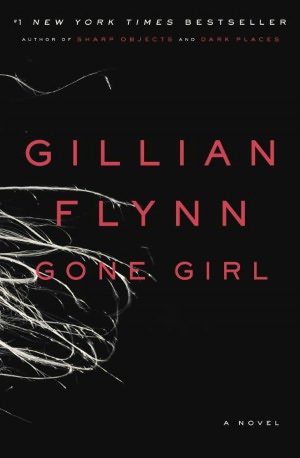 11.. On Sunday, the Chicago HLB had our monthly book club meeting. This past month we read MWF Seeking BFF: My Yearlong Search for a New Best Friend. The book was good and not something that I'd normally seek out. The content also rang true for many of us who are newish to the Chicago area and finding out how much harder it is to make friends post-college. It was so nice to see everyone, meet some new bloggers, and try all the delicious food.
I ended up making OhSheGlows' Peanut Butter, Jam, & Banana Breakfast Pizza. It was good but very sweet, I'm glad I made it for a crowd and not just for Ian and myself!
12. After another hour or so of reading, I decided I should probably make dinner. I made a big pot of sweet vegetarian chili and my new go-to cornbread recipe (in case you're not vegan/gf my old go-to cornbread recipe is Daily Garnish's White Cheddar Yogurt Cornbread and it's soooo good).
13. The highlight of dinner was this hot sauce Ian picked up. For being Tabasco this stuff is soo good and we haven't been able to find it anywhere. Turns out the little convenience store down the street carries it
.
14. Ian and I have almost finished season 1 of Arrested Development. Whoever originally recommended the show to me, thank you. We are both hooked!
15. Today is my first day off from exercising in 2 weeks and I celebrated by sleeping in (a little) and making some cinnamon raisin oats.
That little pat on top that kinda looks like butter is actually cashew butter ha.
16. I'm off to try to squeeze in a chapter of Gone Girl before I head off to work! Have a good one!
What did you do this weekend?